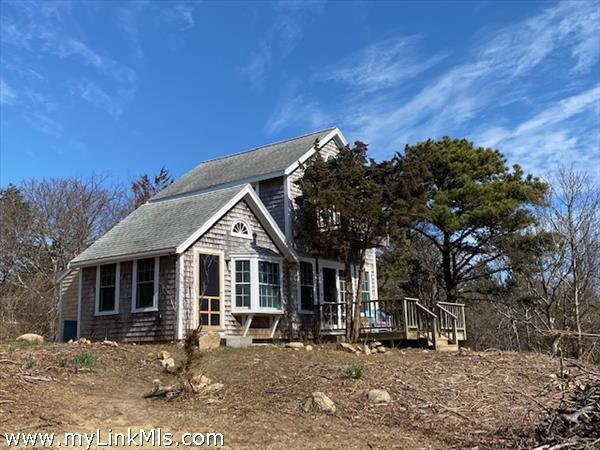 LINK ID: 40632
Town: Chilmark
Type: Single Family
$1,195,000.00
This charming 3 room cottage has tons of potential and is sited in a sweet spot off South Rd. Chilmark near the public boat landing and town center. Oriented towards the sunsets with ample privacy, you can almost see the pond from the 2nd floor deck. Lived in for the past 20 years, this home is sunny and sweet and could be used as is, or expanded into 3 bedrooms with a septic upgrade to a maximum of 3000 square feet. Currently its affordably heated with a propane monitor, the addition of a mini-split and solar would be a great upgrade and easily provide comfort in all 4 seasons. There is a generator on site as well. Property is being sold AS-IS.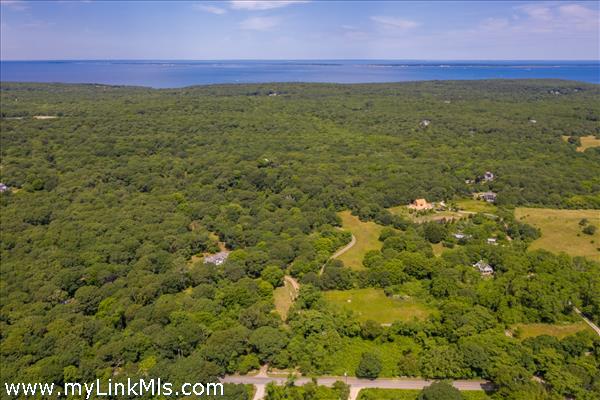 LINK ID: 40477
Town: Chilmark
Type: Land
$1,700,000.00
Settled high on a peaceful ridge this 3.9-acre property is being offered with a long-term lease for 2.5 acres of prime restricted agricultural farmland abutting the property and the Tiasquam River. With the river running along the edge of the property this area is ideal for growing flowers, vegetables, and/or arbors. The land may also be used for grazing and housing livestock along with any amenities that are required to aid in that practice. The building site, situated on the ridge, allows for sprawling vistas across your private farm or peaceful wooded conservation land. Whatever your use may be, this property offers ample privacy and space while remaining close to the Chilmark Town center and its offerings.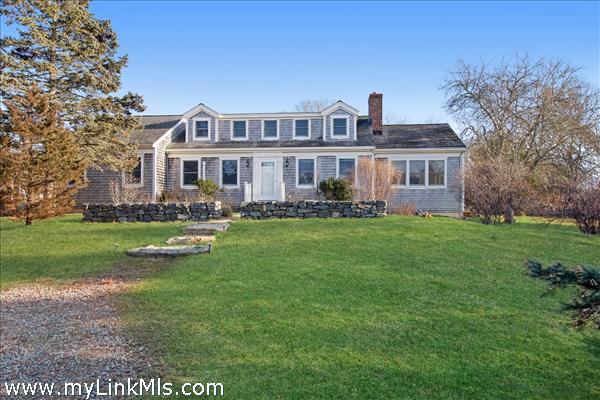 LINK ID: 40452
Town: Chilmark
Type: Single Family
$2,400,000.00
Come put your finishing touches on this great 4 Bedroom cape! Located on the very popular south side of South Road in Chilmark. Enjoy your morning coffee gazing over stone walls and a quiet pasture. Or relax in the delightful four season sun room. Walking distance to a private pond where you can take your boat across to the favorable South Shore beach. A must see!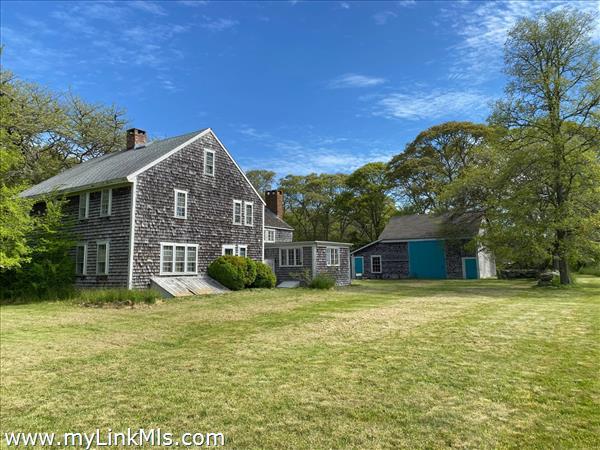 LINK ID: 40343
Town: Chilmark
Type: Single Family
$2,695,000.00
Authentic and lovely Vineyard homestead on over 6 acres with hedgerow borders and stone walls, this is a special and storied piece of island history. The sweeping views over farm fields are stunning, filling the windows with light and the beauty of this natural rural landscape as it has been for hundreds of years. The 1700s post and beam home was originally a "high double house" and became a three-quarter house with an ell in the 1800s. It retains some original features like wainscoting and ancient wide plank floors. The sturdy barn, which was moved to the property in the early 1900s, is ready for it's next chapter as a work barn again, rec space, studio or entertaining spot. This antique Chilmark home awaits its rejuvenation. The property can support an additional house. Property is being sold AS IS.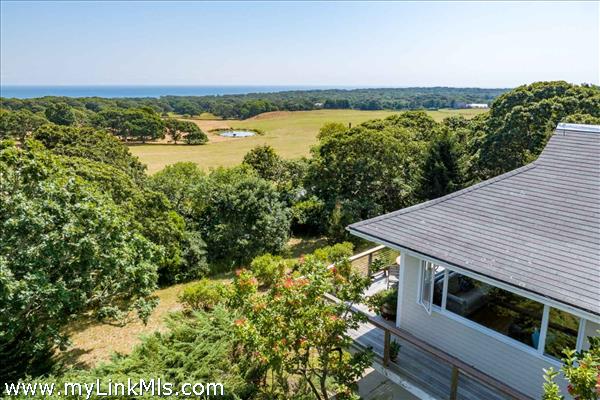 LINK ID: 40055
Town: Chilmark
Type: Single Family
$4,400,000.00
Massive Atlantic Ocean views! This 4.7-acre lot with 120-degree views of the Atlantic Ocean over Keith Farm offers the ideal opportunity to create a stunning property with a main house, guesthouse and swimming pool. The current home is ready to make way for the new owner's vision. The property is just one mile to the entrance of Lucy Vincent Beach and half a mile to Beetlebung Corner. It is a mile and a half to Menemsha. The property is criss-crossed with ancient lichen-covered stone walls and has a feeling of having stepped back in time.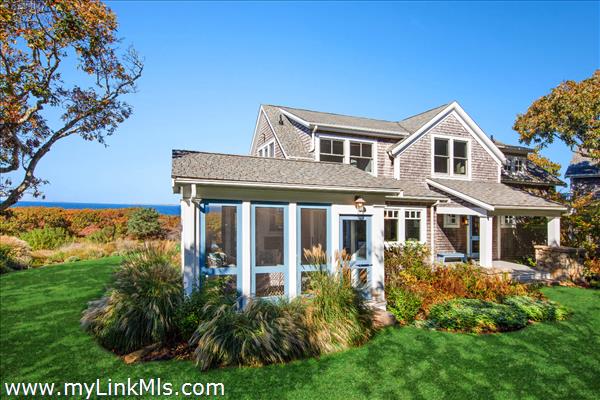 LINK ID: 40668
Town: Chilmark
Type: Single Family
$9,250,000.00
Walk to a private beach and enjoy the beautifully manicured gardens and landscape of this well-loved and privately situated home! Custom designed with a charming Vineyard feel and tasteful interior design. Water view from a gourmet kitchen and formal dining area. Large open living room and spacious bedrooms. Large deck with exceptional views of the North shore and Elizabeth Island's A large enclosed sun porch off the kitchen to enjoy meals and family time and is adjoined by a breakfast nook. Three (3) Bedrooms are located on the upper level. The primary bedroom is complete with a balcony to enjoy sunrises and sunsets. The 4th bedroom is on the first floor next to a full bathroom. The basement is a finished area with an additional living area. The septic system has been upgraded to allow for six bedrooms.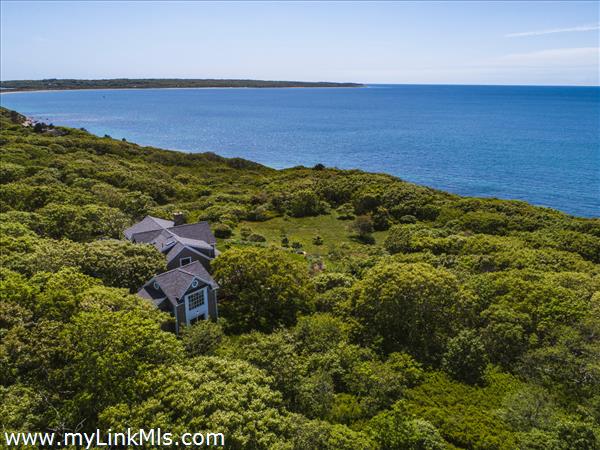 LINK ID: 40627
Town: Chilmark
Type: Single Family
$9,250,000.00
This waterfront 4 bedroom 2.5 bath quality custom home and detached 1 bedroom, 1 bath guest studio are sited on 5.6 pristine acres. Enjoy spectacular water views and magnificent sunsets from almost every room as well as from the stone terrace, screened porch and the primary bedroom balcony. This is a finely crafted home with many wonderful details including salvaged heart pine floors and beautiful old beams. A large building envelope allows room for expansion should a new owner desire. Relax amidst the gardens, expansive lawn and mature trees as you take in the beauty around you or go for a leisurely stroll to Menemsha Village. A short path leads to 340 feet of private waterfront on the Vineyard Sound where one can swim peacefully in the calm waters.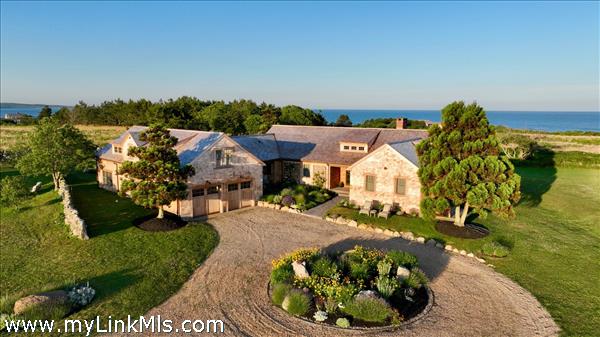 LINK ID: 40560
Town: Chilmark
Type: Single Family
$22,500,000.00
Occupying a serene and dramatic peninsula far from the public eye, Squibnocket Farm embodies a Martha's Vineyard lifestyle in a community that emphasizes environmental sensitivity and discreet privacy. Enjoy 500 acres of forever-deeded conservation land and private access to 2+ miles of vast dune-protected sandy beaches. Life on this quiet corner of the island is accurately described as quaint and boundless. Beyond the gates exists an enclave of 11 well designed and rarely available residential estates coveted for their uniqueness and complemented by unparalleled natural beauty. A rare opportunity to purchase a 6.2 acre ridge top home directly abutting 18 acres of conservation land w/ views of Squibnocket Pond and Atlantic Ocean perfectly framing the endless theater of passing Swans, Ospreys, Pheasants and other fauna harmoniously thriving by the community's low-density approach on Martha's Vineyard only Pesticide-free zone. The home's recently renovated exteriors feature cedar shakes, mahogany trim, crown moldings, copper gutters and discreetly placed solar panels on the roofs south side providing a near zero approach to external power supply. Enjoy the mahogany deck and screened in porch with fireplace. Feel the warmth of highly crafted cedar woodwork throughout the interiors. Enjoy a large dining room, living room w/ fireplace, chef's kitchen, stone counters, custom cabinets, walk-in pantry, high end appliances, cathedral ceilings, open living space, beautiful exposed beams, cherry floors and brick fireplace. First level master suite set on the home's southern end. Mahogany outdoor shower accessible thru the master bath. The North end has 4 additional bedrooms, 2-car garage and 2nd outdoor shower. The Home is fully wired for sound, including smart home features that control central heat and AC. Internet is robustly distributed w/enterprise grade Ubiquiti products, providing low latency and reliable throughput suitable for high quality data or video transmission. Thoughtfully designed gardens highlight ancient stone walls, flower beds, meadows and lawn overlooking water surrounding the estate. Pastures planted by The Allen Farm of Chilmark are home to sheep and lambs + barn w/ lofts, 19 solar panels, electricity, internet and year-round no freeze water supply. Mobile cedar chicken coop houses award winning French Bresse chickens that produce 2 dozen eggs/wk and meat known as the best tasting chicken in the world. This remarkable property has it all and must be seen to fully experience.
©2023 LINK, All Rights Reserved
Not responsible for misinformation or typographical errors. Prices are subject to change without notice.